Apple uses their design prowess to make their iOS devices (iPhone, iPad, etc) sleek and beautiful. But that beauty hasn't made the devices safe from being damaged through normal use. It's quite easy to crack the glass on the screen, for example. It's important to put your iOS device in a case. With the right iPad case it's not only protected, but effectively becomes a laptop. I just bought a ZAGGkeys PROfolio+ case and bluetooth keyboard that will completely changed how I use my iPad3.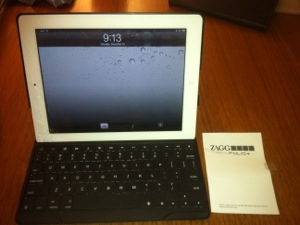 The PROfolio+ is a hard case for the iPad2, iPad3 and iPad4 with an included bluetooth keyboard. Fold the case and the iPad is neatly ensconsed in a hard shell case. Unfold, and you can access the iPad in a couple ways.
First the keyboard half of the case can fold back against the iPad. While it doesn't fold completely flat, it folds in a way that's convenient on a table top. Second, there is a notch which the iPad fits into, and it acts as a stand as shown above.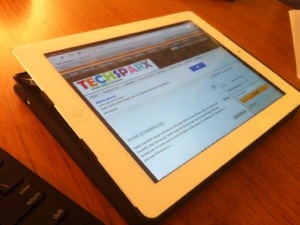 The keyboard has its own on/off switch, and is conveniently recharged via a USB cable. Other bluetooth keyboards force you to feed the keyboard with AAA batteries. Additionally the keyboard is backlit when conditions are dark. They keyboard layout is great, and there is ample space to make typing comfortable.
While my iPad is used for "content consumption" - meaning, I watch videos, listen to podcasts, browse the web, read/send email, and so forth, I also use it for "content creation". At conferences I'll use the iPad to take notes or write blog posts, using the camera to help record the event. I used to take a laptop for this purpose, but the iPad is far more useful and lightweight.
The ZAGGkeys PROfolio+ is perfect for this type of use.
The PROfolio+ is replacing a Kensington pseudo-leather case plus extra bluetooth keyboard. That Kensington case did a fairly good job protecting the iPad, except that the screen did crack once when dropped while in the case. For keyboarding I had to either type on the screen, or use an external bluetooth keyboard (an excellent one made by Targus). The Kensington case was fairly usable but imperfect, and the external keyboard added bulk and routinely the keys came off in my backpack.
The ZAGGkeys PROfolio+ is providing a much much much better combination.
I see on the ZAGG website that they have a similar hard case that is less expensive and lacks the keyboard. If your needs do not include typing text I can recommend that case.